Putin "Vision" Of War With "Satanic America" from 2014 Coming True | Israel
It was reported almost to the day 2 years ago (April 28, 2014) by Sorcha Faal, and as reported to her Western Subscribers; 
A stunning memorandum originating from the Presidential Office relating to President Putin's highly protected and secretive 4-day visit to the Valaam Monastery late last month has terrified the Kremlin today as it states that the massive nuclear war strike drills conducted this past week were "directly related" to a "vision" the President had in which he "saw" that Russia would soon stand alone in battling a United States which is now being controlled by "Satanic" forces.
According to this memorandum, Putin had his "vision" on 28 April while he was seeking the "solace and silence" of the Valaam Monastery as US-backed NATO forces continued flooding into the border regions of  Russia as the Ukrainian Crisis continues to escalate.
The Valaam Monastery is a stauropegic (subordinated directly to a Patriarch or Synod, rather than to a local Bishop) Russian Orthodox Church monastery in Karelia, located on Valaam, the largest island in Lake Ladoga, the largest lake in Europe, and is often referred to as the "spiritual home" of Putin.
Important to note about Putin as it regards to his "visions", this memorandum notes, is that it has long been known/suspected that he is one of the "seven special children" designated, educated and protected by the Church that have guided Russia for nearly 100 years towards what is commonly refereed to in Christianity as the apocalypse.
Putin, it should be remembered, has been "described as a mystery" with no records surviving of any ancestors, or any people, with the surname "Putin" beyond his grandfather Spiridon Ivanovich (1879–1965), who was a chef and cooked for Vladimir Lenin, Lenin's wife Nadezhda Krupskaya, and on several occasions for Joseph Stalin, and who had been "secretly baptized" to the Church by his mother when he was a child.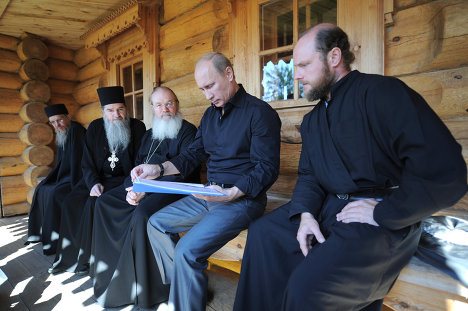 As a stand alone story this incident has merit on its own, but when you connect the dots only then can you begin to swim with the dolphins and have your own visions and signs from the All Mighty.
The past month has seen a number of highly significant events for those that are able to see and hear and have eyes to see and ears to hear. Yesterday on April 30, 2016 the Orthodox Church marked their Easter Day and it was today that May 1, 2016 that there was a building fire at the historic Valaam Monastery where Putin had his vision two years prior.
What is the significance of a fire at the Valaam Monastery on exactly May 1st, 2016? Especially an Orthodox Russian Church Monastery that Putin was himself personally involved in restoring?
The date of May 1 is known in the West as May Day, but also as a day marked in the "Satanic Calendar" as Belthane Day when according to Wikipedia;
During Historic Beltane customs rituals were held at that time to protect them from harm, both natural and supernatural, and this mainly involved the "symbolic use of fire". There were also rituals to protect crops, dairy products and people, and to encourage growth. The aos sí (often referred to as spirits or fairies) were thought to be especially active at Beltane (as at Samhain) and the goal of many Beltane rituals was to appease them.
Perhaps a scene from "Satanic Hollywood" can explain it better what value Fire Rituals and Blood Sacrifice Rituals have to these "Satanists".
We just witnessed a Fire Ritual Sacrifice at the Valaam Monastery on May 1st and in the last past week Zionist Israeli Leader Netanyahu was told by both Obama and Putin that they were proceeding with starting the process to hand over the control of the Goland Heights back to Syria to whom the land belongs after more than 49 years of illegal Zionist Israeli occupation.
Therefore now the Zionist Israelis have realized that not only has the Satanist Obama double crossing Saudi Arabia, but now also Zionist Israel a kingdom funded and founded by Lord Rothschild himself through the lackey Lord Balfour.
We are truly witnessing the start of events that will result in either a horror filled nuclear war between the world major superpowers or we are entering a Golden Age of Peace and Prosperity if we are able to wrestle and bind and contain the forces of Evil.
If you are still on sure on whose side the Al Mighty rests then perhaps you need to look into your own heart and see what feelings are discerned. Do you want to swim with the dolphins or the sharks?
It is also noteworthy that Sorcha Faal, and as reported to her Western Subscribers reports two years after that again Putin is worried about the forces of "Satanist America" are gathering to start a nuclear war with Russia;
A highly classified (and mostly censored) Ministry of Defense (MoD) report circulating in the Kremlin today says that President Putin personally authorized the filming and public release of the firing of a nuclear capable 3M-54 Калибр (Kalibr) land-attack cruise missile towards the Baltic Sea from a Northern Fleet  "unnamed/unspecified"Severodvinsk class submarine operating in the Barents Sea as a warning to both the United States and NATO to immediately cease their efforts to "uncover/discover" information relating to the mysterious object known in the West as the "Baltic Sea Anomaly".
Bothnian Sea between Sweden and Finland—and giving rise to MoD fears that an effort is being undertaken by the West to raise what Russian intelligence analysts in this report warn could possibly be a "dangerous entity".
So concerned, in fact, has the MoD become in regards to the US-NATO efforts towards this mysterious object, this report continues, it has authorized numerous combat maneuvers against these Western warships that have included the disabling of the USS Donald Cook in the Baltic Sea and confrontations by Federation fighter aircraft against American spy planes flying over this region.
As it concerns this mysterious object, this report explains, it was first discovered in 2011 by Sweden's "Ocean X" [Note: this website is blocked in many Western countries] diving team over 200 meters (656 feet) below the Bothnian Sea and described as a 61-meter-wide (200 feet) and eight-meter-tall (26 feet) circular object resembling the Millenium Falconspacecraft seen in the popular Star Wars movies.
Western propaganda about this mysterious object, this report notes, states that it is nothing more than a natural geological formation made of stone—which is "highly/severely" contested by Federation experts whose analysis of this objects structural material show it to be comprised of an unknown metal alloy. This Federation assessment was seconded by the highly noted Israeli geological and archeological doctor-scientist Steve Weiner who, likewise, reported that the materials from this mysterious object were from "metals which nature could not reproduce itself".
Though much speculation revolves around this mysterious object with some believing it is an alien spacecraft, and others believing that it is a Nazi-era top secret project leftover from World War II, this report concludes without its exactly stating what it is other than to note the Federations great "fears/concerns" about it—at least in the parts of this report we were able to read.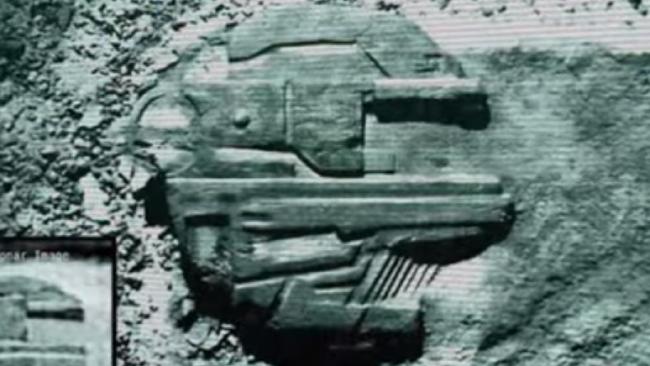 It should also be noted that it was here on this website [Before It's News] where it was also reported that an object very similar to the Millenium Falcon of the Baltic Sea was spotted in Ancient Egypt where the Black Magicians of the Pharaoh were Kings or Gods. Again "Satanic Hollywood" to the rescue.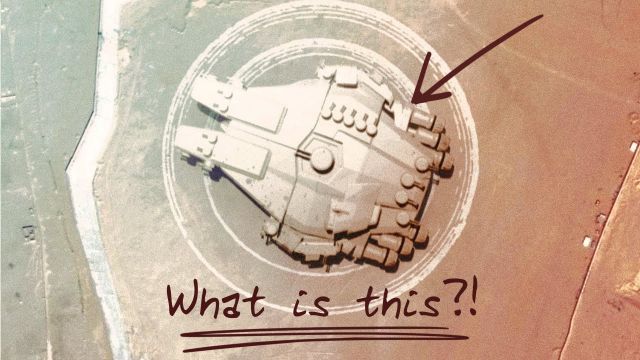 Sources: