[ZurichTimes – July 31, 2017] All the elements and pieces are lining for one basic conclusion – American will be launching World War III this year.

America and the Trump Administration are being either forced, blackmailed, or dragged into a War with China and Russia and even Little North Korea.
They are either being coerced into this action or Trump is showing his true colours and fulfilling his true destiny and initiating a War to end all Wars.
Here are some of the pieces of information supporting this hypothesis;
Why pass a Bill that essentially makes it impossible to improves relations with Russia? Because you are now viewing Russia as an Enemy that you need to provoke into War so as not to appear as the War Monger. However, the people have awoken and anyone that can read and write and think can clearly see who is the instigator of this war.
Here is the start of the Bill and notice the subtle wording the nations mentioned;
To provide congressional review and to counter aggression by the Governments of Iran, the Russian Federation, and North Korea, and for other purposes.
So War against Russia, Iran aka Syria, and North Korea aka China are all listed in plain sight for all to see and read and think.
Putin's response was to expel 755 US Diplomats aka Spies and Trouble Makers.
[Zerohedge] Putin also told the Russian audience that "the American side has made a move which, it is important to note, hasn't been provoked by anything, to worsen Russian-US relations. [It includes] unlawful restrictions, attempts to influence other states of the world, including our allies, who are interested in developing and keeping relations with Russia."
This criminal and outrageous is another indication of America as a failed State. When States lash out with such criminal legislation they are in the end stage of their Empire. The American Empire is on the verge of utter Collapse and it wants to take the entire world down with it into the gutter to cover its crimes.
[Paul Craig Roberts] That Congress uses a blatantly transparent lie to justify its violation of international law and intentionally worsens US relations with both Russia and the EU proves how determined Washington is to intensify conflict with Russia. Expect more false allegations, more demonization, more threats.

War is in the cards.
What is even more provocative about this criminal piece of Legislation is that it is openly going after Russia's Natural Gas Market in Europe. America is directly trying to take over that market from Russia with this Bill which is disguised as a Sanctions Bill. If readers truly understand what Sanctions are then they will realize that they are tools of War and Acts of War.
When you encircle a Nation and prevent it from trading that is an Act of War and finally the Chinese and Russian are realizing this fact.
[FusionLacedIllusions] Another section of this new law titled IMPOSITION OF SANCTIONS RELATING TO SPECIAL RUSSIAN CRUDE OIL PROJECTS, orders President Trump, likewise, to destroy any company in the world that cooperates with Russias state owned energy companies supplying natural gas to the European Union, with a section titled SANCTIONS WITH RESPECT TO INVESTMENT IN OR FACILITATION OF PRIVATIZATION OF STATE-OWNED ASSETS BY THE RUSSIAN FEDERATION going even further by ordering President Trump to keep Russia from even being able to privatize its government owned energy assests, that in the US is called capitalism.
---
Observation #2 – The Troops are Massing for War in Asia and Europe

And what was China's response to the North Korea missile launch and Trump's rebuke?
[DebkaFile] Shortly after President Donald Trump criticized China over failing to deal with North Korea, President Xi Jinping in a general's uniform viewed a huge military parade Sunday marking the People's Liberation Army's 90th anniversary.

Xi is the PLA's commander in chief. Whereas the annual parade usually takes place in Beijing, this one was staged at the remote Zhurihe military base in Inner Mongolia., with the participation of 12,000 soldiers, 100 bombers and fighters and a display of 600 weapons systems, 40 percent of them new products of China's arms industries.

"The world isn't safe at the moment," the Chinese president told his people. "A strong army is needed more than ever."
The troops are massing in the Baltics, Ukraine, Eastern Europe, Korean Peninsula, and even in Syria where America's secret bases were just recently uncovered by the Turks who are now posed for a massive betrayal of the NATO Alliance with their purchase of the S-400 Missile System and formation of an alternative Alliance with Russia, China, and Iran to counter Israel and NATO.
Russia troops are now even amassing across the border from Israel.
[DebkaFile] DEBKAfile's military sources report that several hundred Russian combat troops took up position Monday at Quneitra opposite Israel's Golan border. Contrary to Russian media reports, they are not military police officers bearing the light weapons of peacekeepers, but fully kitted out and armed Russian special operations troops, the first to be deployed at any Israeli border.
---
Observation #3 – Scaramucci is Fired as the Generals Move in for War

It only took 10 days for another Trump loyalist to get Fired for the Generals. We now have a full War Cabinet in place poised and ready for War.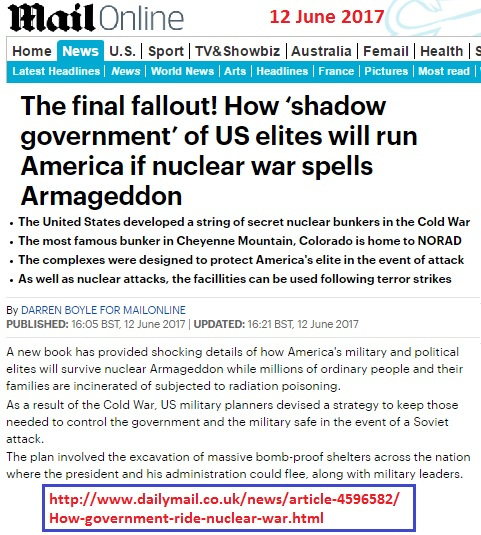 Here is a short list of the Military War Cabinet actors involved;
General James Mattis- Pentagon Head
General John Kelly – former Head of Homeland Security and now Chief of Staff
Ryan Zinke – former US Navy SEAL and now Head of Department of Interior
Mike Pompeo – former US Army officer and now CIA Head
Randolph Alles – former US Marine General  and now Head of the Secret Service
H.R. McMaster – former Army Lieutenant General and now NSA Head
How many Generals does it take to bake a War cake?
---
Sources:
https://www.youtube.com/watch?v=RgJ4yZigi9M
http://debka.com/article/26164/Trump-Putin-Xi-Talking-fades-to-shows-of-force
https://theintercept.com/2017/07/25/cardin-amend-israel-boycott-bill-bds/
http://docs.house.gov/billsthisweek/20170724/HR_____.pdf
http://www.whatdoesitmean.com/index2289.htm
http://www.zerohedge.com/news/2017-07-30/its-time-retaliate-putin-expels-755-us-diplomats
http://www.pbs.org/newshour/rundown/anthony-scaramucci-fired-as-white-house-communications-director/
http://www.paulcraigroberts.org/2017/07/28/new-russian-sanctions-bill-washingtons-monument-criminality/
https://en.wikipedia.org/wiki/Cabinet_of_Donald_Trump